Desire for Al-Qaeda Flag Put Aspiring Terrorist on FBI Radar
Jun 10, 2014 at 9:27 am
Cross-posted from Investigative Project on Terrorism
https://jihadintel.meforum.org/105/desire-for-al-qaeda-flag-put-aspiring-terrorist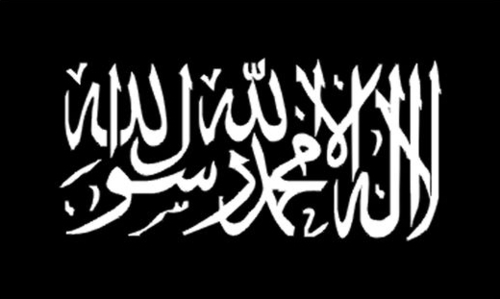 Black flag of jihad, used by al-Qaeda
On June 10, Sami Osmakac, a Kosovo-born U.S. citizen, was found guilty of plotting to stage a "second 9/11" by detonating bombs across the Tampa area. The path leading to the sting operation that would nab Osmakac began with the wannabe jihadist asking an informant where he could buy al-Qaeda flags.
More details in "Terror in Tampa - CAIR Denial," Investigative Project on Terrorism, January 9, 2012:
The FBI was alerted to the case when a "Confidential Human Source [CHS]" approached them in September, claiming that Osmakac had asked the CHS where he could purchase al-Qaida flags. The CHS then hired the suspect at his business and by November was recording conversations between the two of them.

On November 30, FBI agents recorded the suspect telling the informant that he wanted to carry out a local attack, and asking where he might be able to acquire weapons and explosives. The CHS then connected the suspect to undercover FBI agent, who agreed on December 21 to provide the suspect with an AK-47, "a couple of Uzis," at least ten grenades and a suicide bomber belt.
Read the complete original version of this item ...
receive the latest by email: subscribe to the free jihad intel mailing list