Video Shows Black Flag of Jihad inTsarnaev Family Home Before Boston Bombing
Mar 6, 2014 at 9:02 pm
Cross-posted from The Daily Mail
https://jihadintel.meforum.org/112/video-shows-black-flag-of-jihad-in-tsarnaev-home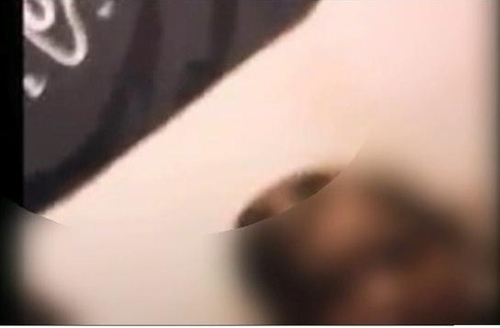 A corner of the Black Flag of Jihad appears in the Tsarnaev family home in a video taken before the Boston bombing.
A chilling reminder of the importance of jihad identifiers in connecting the dots before terrorist attacks. The Daily Mail uncovered a video taken before the Boston bombings in the Tsarnaev family home in Cambridge, MA. Visible on the wall: the Black Flag of Jihad, commonly used by al-Qaeda.
"Disturbing Video Emerges," by M R Freda, The Daily Mail, March 6, 2014:
Meanwhile, MailOnline has also found footage showing the flag of jihad hanging in the Cambridge, Massachusetts home shared with the Tsarnaev family.

The startling video was discovered while investigating images and video posted by the 'Free Jahar' community – who are fighting to clear the name of Tamerlan's brother Dhozkhar, who is currently in custody awaiting trial for his part in the mass killings. He has pleaded not guilty.

The flag used by Al Qaeda is visible at the end of a short video clip showing Dhzokhar Tsarnaev with his niece, daughter of Tamerlan and Katherine.

In it, he is teasing the baby, and as he says 'give me a kiss.'The flag, which was identified by a federal expert who examined the video, is visible behind her.

It is often called the Black Standard and has the shahada - a creed that declares in the oneness of God written on it. The flag started appearing on Islamist websites since 2001.
Read the complete original version of this item ...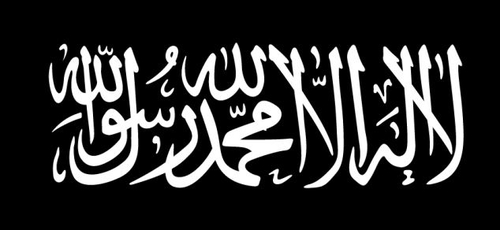 Many identifier clues linked the Tsarnaev brothers to radical Islamic terror groups before they allegedly bombed the Boston marathon.
receive the latest by email: subscribe to the free jihad intel mailing list