New Campaign by Jihadis in Gaza to Raise Money for Jihad
by Aymenn Jawad Al-Tamimi • Aug 23, 2015 at 6:42 am
https://jihadintel.meforum.org/179/new-campaign-by-jihadis-in-gaza-to-raise-money
The campaign has been running for the past several weeks and is entitled "Jahhizuna", which means "Prepare us." Below is a screenshot from a recent video put out by the campaign on Youtube. Note that the use of the same flag as the Islamic State does not automatically mean this campaign is linked to the Islamic State, but it is notable that the "Jahhizuna" campaign is being promoted by multiple pro-Islamic State accounts on Twitter. The "Jahhizuna" campaign has also been promoted by Ibn Taymiyya Media that currently appears to lean towards al-Qa'ida.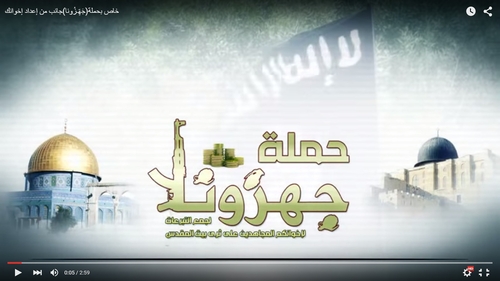 "Jahhizuna Campaign: to gather donations for your mujahideen brothers on the soil of Bayt al-Maqdis."
Below also is a graphic shared on Twitter by the "Jahhizuna" campaign, urging those who desire jihad to prove their intention through provision of money, noting the cost of various weapons and providing contact information.

An individual rifle and ammunition for $2500, an RPG for $3000, a sniper rifle for $5500 and a machine gun for $5500. Contact information via Telegram app, Twitter, or e-mail.
receive the latest by email: subscribe to the free jihad intel mailing list