Liwa Shuhada al-Yarmouk Threatens Israel
by Aymenn Jawad Al-Tamimi • Oct 15, 2015 at 4:33 pm
https://jihadintel.meforum.org/187/liwa-shuhada-al-yarmouk-threatens-israel
Liwa Shuhada al-Yarmouk, the one-time Southern Front affiliate turned pro-Islamic State, issued a statement today threatening Israel, whose territory borders that controlled by Liwa Shuhada al-Yarmouk in southwestern Deraa province. The narrative of the statement focuses on the understanding between Israel & Russia , the latter of which has intervened directly in Syria in support of the Assad regime. The two will avoid inadvertent clashes even as Russia will not stop Israeli missions to conduct airstrikes in Syria against perceived threats to its borders, primarily relating to the Hezbollah presence in Syria that has attempted to open up a front against Israel via Quneitra (which is also right by Liwa Shuhada al-Yarmouk territory).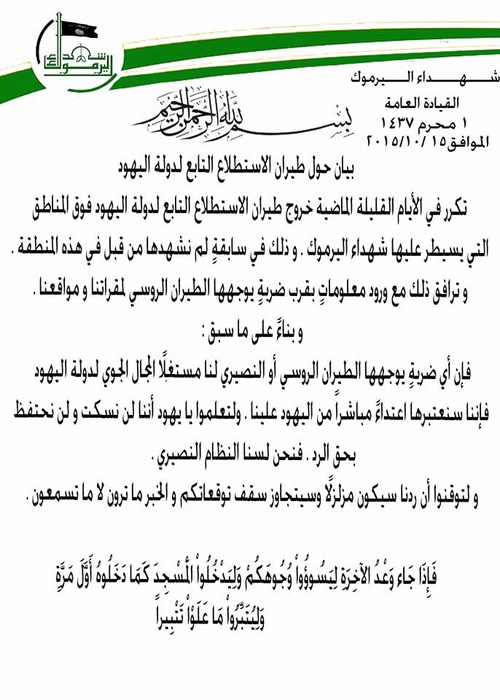 "Shuhada al-Yarmouk
General Command
1 Muharram 1437 AH corresponding to 15 October 2015
In the name of God, the Compassionate, the Merciful
Statement on the reconnaissance aircraft affiliated with the state of the Jews
In the past few days reconnaissance aircraft affiliated with the state of the Jews has repeatedly come out above the areas that are controlled by Shuhada al-Yarmouk. That is something unprecedented for us- we have not witnessed it before- in this area. And that is accompanied by the arrival of information on an impending strike that Russian aircraft will direct against our bases and positions.
So according to what has come above:
Any strike directed by Russian or Nusayri [Assad regime] aircraft against us exploiting the airspace of the state of the Jews, we will consider it a direct attack on us by the Jews. And know, oh Jews, that we will not keep silent or hold back the right to respond. For we are not the Nusayri regime. And beware that our response will trigger a convulsion and will exceed the roof of your expectations. And the news will be what you see, not what you hear.
And when the final promise came, that they should sadden your faces and enter the temple, just as they entered it the first time, and totally destroy what they seized [Qur'an 17:7- this verse refers to the destruction of the temple in Jerusalem]."
receive the latest by email: subscribe to the free jihad intel mailing list