Islamic State Advice on Attacks in 'Enemy Abode'
by Aymenn Jawad Al-Tamimi • Nov 10, 2017 at 12:11 pm
https://jihadintel.meforum.org/209/islamic-state-advice-on-attacks-in-enemy-abode
As the Islamic State goes into rapid decline as an entity controlling territory in Iraq and Syria, the overwhelming majority of its propaganda output has become dedicated to coverage of military operations against its enemies. Alongside that shift has come increasing emphasis on the idea that the Islamic State will still live on its 'soldiers' conduct operations in the heart of enemy territory. The latest issue of the Islamic State's al-Naba' newsletter (issue 105) contains the following infographic on the matter. Of course, in seeking to conduct attacks in 'enemy' countries, many Islamic State supporters are undoubtedly seeking fame in what would otherwise have been an uneventful existence without supposed meaning to their lives. Yet the infographic warns against that sort of motivation.
Also notable in this infographic is the urge to inflict maximum damage at minimum cost. Much speculation exists as to how far the Islamic State finances attacks by its operatives in the West but self-funding by operatives seems to be the preferred means, such as through taking out loans under false pretences, or relying on proceeds of common criminal activity like drug-dealing and robbery.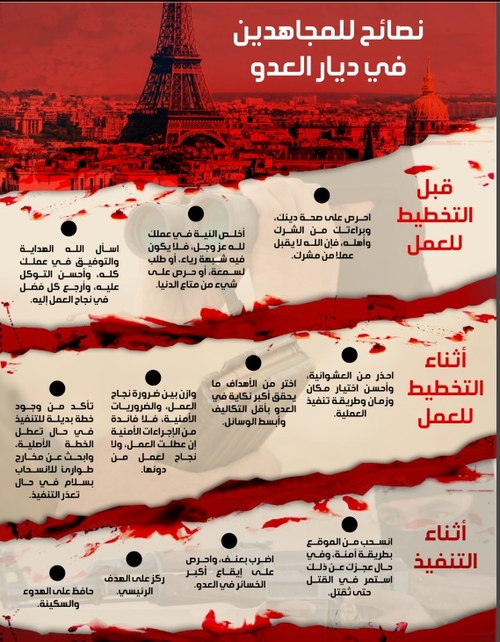 "Advice to the mujahideen in the abode of the enemy:
- Before planning the deed:
. Be sure as to the correctness of your religion, and your disavowal of shirk [idolatry] and its people, for God does not accept a deed from a mushrik [idolater].
. Devote the intention in your deed to God- Almighty and Exalted is He. For there should not be in it suspicion of showing off, or seeking fame, or desire of something from the commodities of this world.
. Ask God for guidance and success in your deed in its entirety, and seek to put your reliance on Him, and attribute every grace in the deed's success to Him.
- During planning of the deed:
. Beware of randomness. Make a good choice of place, time, and means of conducting the operation.
. Choose from targets that will result in the greatest damage to the enemy, with the least expenses and simplest means.
. Strike a balance between the necessity of the deed's success and security necessities, for there is no benefit from security procedures if they hinder the deed, and there is no success for a deed without them.
. Be sure to have a contingency plan for execution in case the original plan is hindered, and look for emergency exits to withdraw safely in the event that the execution becomes impossible.
- During the execution:
. Withdraw from the site by a safe means, and in the event you cannot do that, continue killing until you are killed.
. Strike violently and be sure to inflict the greatest losses among the enemy.
. Focus on the main target.
. Preserve calm and tranquillity."
receive the latest by email: subscribe to the free jihad intel mailing list