Suicide Bomber From U.S. Came Home before Attack
Aug 1, 2014 at 11:34 am
Cross-posted from New York Times
https://jihadintel.meforum.org/101/suicide-bomber-from-us-came-home-before-attack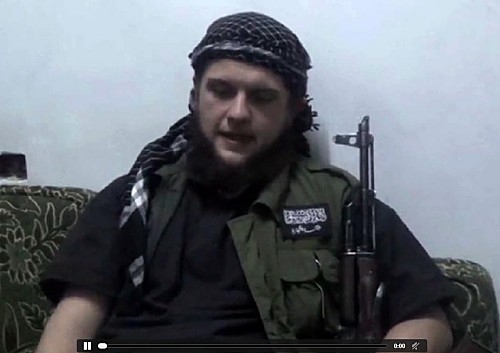 Moner Mohammad Abusalha grew up in Florida -- and detonated himself in Syria.
Jihadist groups in the Middle East are increasingly recruiting Muslims in the West. Western-based jihadis train and operate in the Middle East. They often return home to the West where they can be indentified with Jihad symbols. In the photo above, Abusalha is wearing a flag patch of Jabhat al-Nusra, a Syrian group designated as terrorist by the United States.
Suicide Bomber From U.S. Came Home Before Attack," by Michael S. Schmidt and Mark Mazzetti, New York Times, July 30, 2014:
When Moner Mohammad Abusalha drove a truck packed with explosives into a restaurant in northern Syria in May, American authorities conceded that they knew little about how a young man who grew up a basketball-obsessed teenager in a Florida gated community had become a suicide bomber.

And they have never publicly acknowledged the startling discovery they made weeks into their investigation: that after receiving training by an extremist group in Syria, Mr. Abusalha had returned to the United States for several months before leaving the country for the last time.

Mr. Abusalha, 22, chose to carry out his attack in Syria rather than in the United States, but the difficulty learning about his background, motivations and travels illustrates the problems law enforcement officials face in trying to identify the Westerners — including dozens of Americans — believed to have been trained by Islamic militants in Syria.

Counterterrorism officials in both Europe and the United States have long said they consider the return of their radicalized citizens from Syria a looming threat, especially to nations easily reached from Syria. But with so many Americans traveling abroad, officials in the United States face the difficult question of how to deal with a potential danger posed by a small group of people.
Read the complete original version of this item ...
receive the latest by email: subscribe to the free jihad intel mailing list