Intelligence Update: March 12-March 22, 2016
by Jihad Intel Staff • Mar 22, 2016 at 2:08 pm
https://jihadintel.meforum.org/195/intelligence-update-march-12-march-18-2016
Significant jihadist activities in the West for the week of March 12 through March 22, 2016:
The Islamic State has claimed credit for the coordinated terrorist attacks in and around Brussels, Belgium on March 22. (Source: Jihad Intel Special Alert)
Analyst Comment: Although the attacks in Brussels may tend to dominate the day's news, it should be noted that the previous ten days demonstrate the degree of complexity, and level of sustainability, accruing to the jihadists' advantage.
March 14, 2016: Toronto, Canada. Ayanie Hassan Ali, a 27 year old Canadian citizen, allegedly attacked and injured two members of the Canadian military at a recruiting center. His weapon of choice was a knife. It has been alleged by at least one news source that the suspect stated, "Allah told me to do this. Allah told me to come here and kill people." (Source: CNN)
March 15, 2016: Minneapolis, Minnesota. An apparent "kill list" has been published by the Islamic State-affiliated "Cyber Caliphate," which specifically lists Personally Identifiable Information (PII) of police officers in Minnesota area. It further calls for the officers' death. (Source: Star Tribune)
Analyst Comment: This sort of "doxing" hack attack has occurred in the past. The first line of defense is to conduct proper "cyber hygiene." In other words, keeping address and information data private on social media accounts and remembering to turn off any geo-location capabilities on mobile phones after using GPS applications are a means to reducing nefarious access to one's PII.
March 16, 2016: Brussels, Belgium. A police raid on an apartment resulted in the death of an illegal alien (Algerian national Mohamed Belkaid) in the southern city of Forest. The suspect was reportedly attempting to fire on police personnel when police snipers neutralized him. The raid was being conducted in connection with the suspect's ties to the November, 2015, deadly terrorist attacks in Paris, France. A few officers were injured when at least two suspects fired, or attempted to fire, upon them earlier in the day. Those suspects are presently at large. Along with an AK-47 rifle and ammunition, an Islamic State flag was recovered at the scene. (Source: BBC)
Analyst Comment: Jihad Intel can confirm that suspect Belkaid's information appears on an IS file as part of a leak of thousands of files containing information on IS recruits. The original document and an English translation have both been provided here.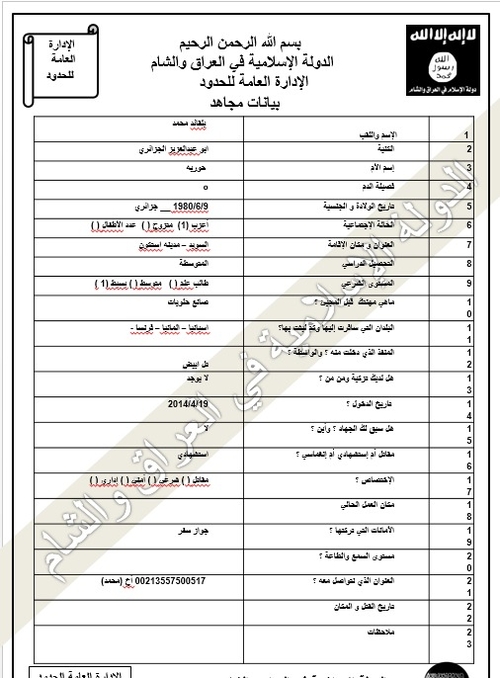 | | |
| --- | --- |
| Name and title | Belkaid, Mohamed |
| Nickname | Abu Abd al-Aziz al-Jaza'iri [the Algerian] |
| Mother's name | Houriya |
| Blood type | O |
| Date of birth and nationality | June 9, 1980; Algerian |
| Societal status | Single |
| Address & place of residence | Stockholm, Sweden |
| Academic attainment | Secondary |
| Shari'i level [i.e. religious understanding] | Simple |
| Occupation before coming | Sweets-maker |
| Countries travelled to and how long did you stay in them? | Spain, Germany and France |
| Point of entry [to Syria] and means? | Tel Abyad |
| Do you have tazkiya [process whereby someone else vouches for you] and from whom? | No |
| Date of entry | April 19, 2014 |
| Previous jihad experience and where? | No |
| Fighter/martyrdom operative [suicide bomber]/commando | Martyrdom operative |
| Speciality | [none ticked] from options of fighter, Shari'i cleric, security official, admin official. |
| Current place of work | |
| Guarantees you have left? | Passport |
| Level of obedience | |
| Contact we will connect with? | Brother:0021355750051700213557500517 |
| Date of killing and place | |
| Notes | |
| | |
Islamic State in Iraq and al-Sham (secret)
General Borders Administration
March 16, 2016: Pristina, Kosovo (autonomous region of Serbia). Police have arrested two unnamed Albanian suspects in connection with recruiting and/or financing fighters in Iraq and Syria. The source didn't report the specific organization the suspects were alleged to be supporting. (Source: Associated Press via The San Diego Union-Tribune)
March 16, 2016: Paris, France. Four suspects were arrested in the vicinity of France's capital on "suspicion they were planning an imminent terror attack in central Paris." In their possession were the accoutrements of weaponry and computer equipment. The suspects were known "Islamist radicals," at least one of whom had recently been sentenced and granted early release for previous terrorism-affiliated activity. (Source: RT)
March 17, 2016: Fresno, CA. The FBI has concluded that Faisal Mohammad was likely inspired by the Islamic State when he went on a stabbing rampage at the University of California, Merced, this past November. The law enforcement relevant statement: "During the rampage, Mohammad carried a backpack containing a two-page, hand-written 'manifesto,' detailing plans to bind students to their desks with zip-tie handcuffs, authorities have said. Then, he was going to make a fake 911 distress call, ambush responding officers with a hunting knife and steal their guns to shoot a list of targeted classmates." (Source: US News and World Report)
Analyst Comment: As so-called "swatting" events have become commonplace, it is wise to remember that not all such events consist of a fictitious incident. Some may be designed to lure police into an ambush. One such example, which featured an announcement on social media of his intent to commit "suicide-by-cop," occurred on June 19, 2015 in Cincinnati, OH.
Analyst Comment: "Swatting" is typically defined as falsely reporting an emergency at an existing address, in an effort to garner a police response (preferably by a Special Weapons and Tactics, SWAT, unit). References to firearms, violence, or hostage-taking are common in such incidents. The potentially serious calls have often been pranks, many times carried out by online gamers who sought notoriety, thrill, revenge or harassment.
March 18, 2016: Molenbeek, Belgium. In connection with the March 16, 2016 raid in Belgium (above), it has been confirmed that Salah Abdeslam has been arrested. He is believed to be directly tied to the deadly November, 2015 terrorist attacks in Paris, France. (Source: Fox News)
March 19, 2016: Istanbul Turkey. A suicide bomber, identified as a Turkish national in his mid-twenties, killed four people and injured many more. The citizenship of the decedents consisted of two American-Israelis, an Israeli and an Iranian. The terrorist attacker was believed by Turkish authorities to have been affiliated with the Islamic State. Dozens of tourists from disparate regions of the world were injured in the attack. (Sources: CNN and Fox News)
March 21, 2016: Sydney, Australia. A 16 year old female and a 20 year old male were charged with financing the Islamic State terrorist organization. (Source: BBC)
receive the latest by email: subscribe to the free jihad intel mailing list